Haunted House (2nd Edition) - Denys Fisher, 1975
A 3D board game published by Denys Fisher in 1975, which was originally based on the US board game "Which Witch". This is the 2nd edition of this game published by Denys Fisher, hence the title being "New Haunted House".
The 1st edition of this game was published in 1971 and called simply "Haunted House".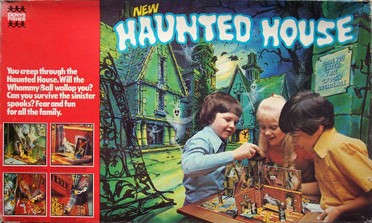 The object of the game is to be the first player to travel through the Haunted House and reach the charmed circle at the top of the stairs, but there are lots of dangers along the way to catch you out, when the metal ball is dropped down the chimney. The game play is identical to the 1971 1st edition of Haunted House.
Game Details
Game: 'New' Haunted House
Company: Denys Fisher
Players: 2-4
Year: 1975
Game Contents
A fully complete game will have the following contents.
The parts are very similar to the 1st edition of Haunted House, but you will notice that the names of the cards have changed. Ghoulish Gerty has become Ghastly Arthur, Glenda the Good has become the Friendly Soul and Wanda the Wicked has become Evil Dr. Creek. You also get a rules and assembly instructions leaflet with this edition, instead of them being written on the inside of the box lid. There are 1-2 other minor changes as well.
1 game board
1 central chimney
2 wall sections
4 clips to attach wall sections to the board
1 creaky floorboard
4 cardboard playing pieces
1 metal ball bearing
4 cardboard ghost playing pieces
1 secret panel
1 Thin Ghost card
1 back brace for the loose floor
1 set of stairs
5 Evil Dr. Creek cards
8 Friendly Soul cards
19 Ghastly Arthur cards
1 Thin Ghost card holder
1 broom axle
1 bucket for the secret panel
1 landing
1 baffle
1 chimney cap
1 die
1 game rules & assembly instructions leaflet