Dad's Army - Denys Fisher, 1974
Crazy capers out on patrol as our redoubtable heroes prepare to hold off the Hun! The Dad's Army board game was published by Denys Fisher, under their Strawberry Fayre label, in 1974.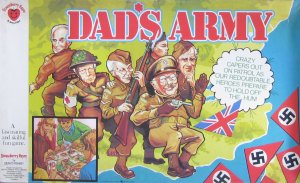 Dad's Army is one of my personal favourite board games, mainly because the programme is one of my top TV shows of all time. For the same reason, this game is always popular with collectors. The show itself is a classic, so the board game will probably remain popular forever too.
Players choose 2 members of the Dad's Army team and the object of the game is to be the first player to get both of your men to their map reference point. Movement around the board is determined by the throw of a die, combined with instructions on the top secret cards and order cards.
Game Details
Game: Dad's Army
Company: Denys Fisher (Strawberry Fayre label)
Players: 2-4
Year: 1974
Game Contents
A fully complete game will have the following contents.
1 game board
9 cardboard character playing pieces, with a base for each one
48 top secret cards
24 order cards (12 red and 12 black, each set numbered 1-12)
4 reference markers
14 Union Jack markers
14 swastika markers
1 die
The rules are on the inside of the box lid
Special Note: I have seen a copy of this game with 32 order cards instead of the 24 detailed above. There were 4 extra red cards, numbered 9,10,11 and 12, plus 4 extra black cards, numbered 9,10,11 and 12. I don't know if this was an accident at the factory or a deliberate addition, but the 24 cards listed above seems to be the 'normal' contents.